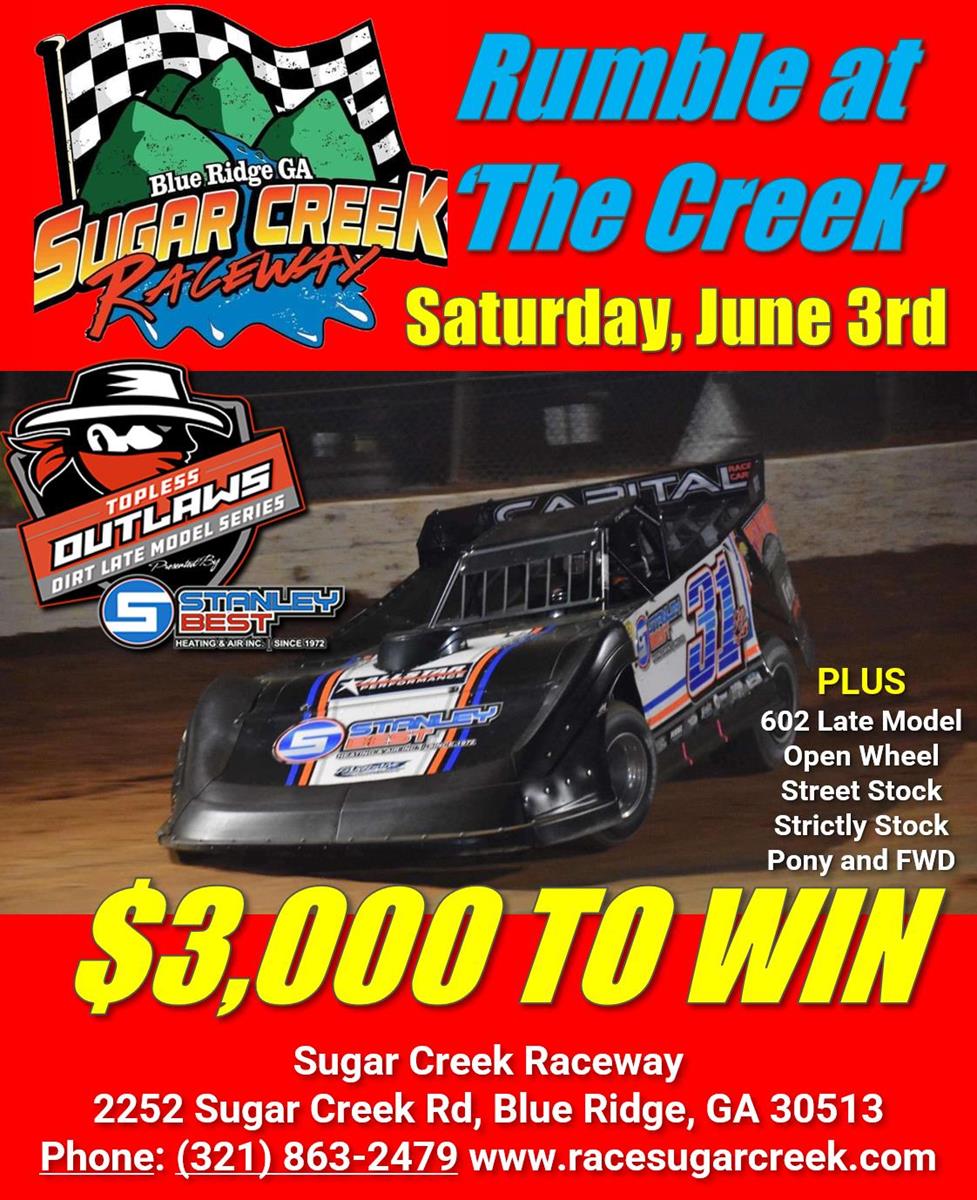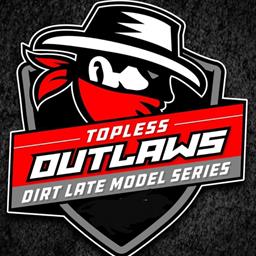 5/30/2023
Topless Outlaw Late Model Series
---
RUMBLE AT 'THE CREEK' UP NEXT FOR TOPLESS OUTLAWS
Blueridge, GA (5-30-23) Sugar Creek Raceway in Blueridge, Georgia will host the Topless Outlaws Dirt Late Model Series presented by Stanley Best Heating & Air for the fourth time on Saturday, June 3rd for a 40-lap, $3,000 to win main event.
It will mark the series fifty-third event overall and fourth visit to the tight red clay bullring situated in the mountains of Northern Georgia.
Skip Arp of Georgetown, Tenn. won last year's event on June 18th. Other previous Topless Outlaws winners at Sugar Creek include Chase King (2019) and Ronnie Johnson (2021).
A full slate of racing action is on the under-card at Sugar Creek including 602 Late Models, Open Wheel Modified, Street Stock, Strictly Street, Pony and Front Wheel Drive divisions. Pit admission will be $35, Grandstand admission will be $15 with kids age 10 and under admitted free.
Sugar Creek Raceway is located at 2252 Sugar Creek Road, Blueridge, GA 30513. For additional information, visit Sugar Creek Raceway's website at www.racesugarcreek.com and follow them on Facebook. Visit Topless Outlaws at www.toplessoutlaws.com or on Facebook.
2023 Topless Outlaws marketing partners include:
Stanley Best Heating & Air, Discount Tire, B&B Performance Racing Engines, Noble Knights Construction Services, NAPA Auto Parts, PPM Racing Products, Stinger Race Cars by KCW, Hoosier Tire South, American Racing Tire, Chattanooga Valley Used Cars & Parts, Five-Star Properties, Fullmoon Graphics, Phantom Race Engines, Winning Edge Carburetors, Cruise with the Champions.
2023 Racing Schedule of events:
5/6 /23 - Tazewell Speedway - $3,000 to win. (Jordon Horton)
5/20/23 - Crossville Speedway - $2,500 to win (Rained Out)
6/3/23 - Sugarcreek Raceway - $3,000 to win
6/10/23 - Duck River Raceway Park - $4,000 to win
6/24/23 - Senoia Raceway - $3,000 to win
7/3/23 - Wartburg Speedway - $3,000 to win
7/8/23 - Smoky Mountain Speedway - $3,000 to win
7/22/23 - Volunteer Speedway - $4,000 to win
8/12/23 - Duck River Raceway Park - $4,000 to win
8/18/23 - Tri-County Racetrack - $2,500 to win
8/19/23 - Crossville Speedway - $TBA$
8/26/23 - Talladega Short Track - $3,000 to win
9/9/23 - Mountain View Raceway - $3,000 to win
Back to News